Latest uppdate 31.05.2016;
Our champion titels and winner titels.

Latest uppdate 19.04.2015;
Our champion titels and winner titels.
Imports and bloodlines
Top placement Breeder



My name is
Susanne Robertsson.
I live in a suburb
to Stockholm in Sweden.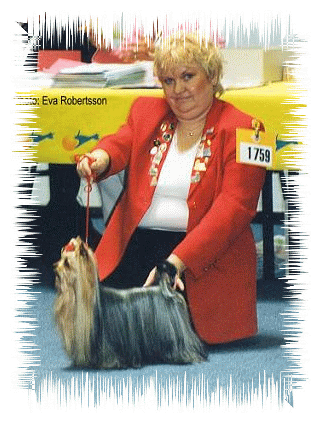 I have the the prefix
ZUE DOGGY-BOOMS
since 1989.

From 2008
my sister is also
registreded under our kennelname.
Eva Robertsson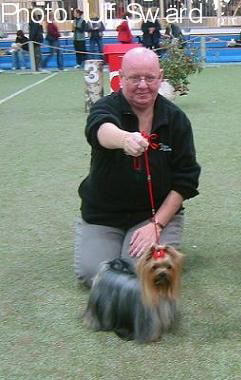 I fell in love with the yorkshireterrier,
when I as a child yearly
went to the big dog show in Stockholm,
to look at all the wonderful dogs.

Me and my sister Eva
always stopped at the ring,
where the lovely little dog,
with the amazing long hair
and beautiful head, appeared.

The owners stood there
and brushed and brushed their yorkies
and the coat just shined.

Just there my dream started,
to own such a wonderful dog.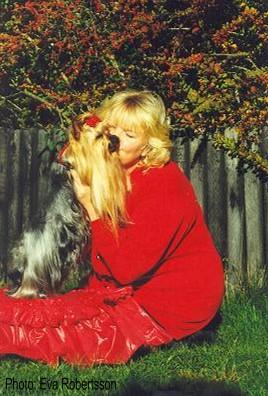 I bought my
first yorkshireterrier 1987
from the kennel Joe-Hill´s
as a family dog
and the second one
from kennel Ancylus.

Ancylus Bunny was the one
who I started my
showing career with,
and she was even the mother
to my first Swedish Champion
Zue Doggy-Booms Claudius,
which he became 1993.
His father was
INT S NCH NW-89,90 SW-90
Debonaire´s Believe In Music.

My second dog from Bernice Undén,
kennel Debonaire´s,
Was a lovely bitch with the name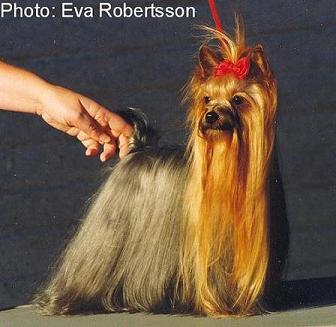 Debonaire´s On My Mind
"Monia".

She became my
second Swedish Champion.
Her colors and coat quality
where excellent all her life.

"Monia" have given me the best
a brood bitch can give a breeder.
Excellent puppies
where five has became champions.
They started my carrier
up among the breeders in Sweden.

We have been placed at
Swedish Yorkshireterrier Society´s list
Top 10 Breeders
nr 9/1996, 4/1997,
5/1998, 5/1999, 5/2000,
2/2001, 2/2002, 3/2003,
3/2004, 2/2005, 4/2006
6/2007, 4/2008, 3/2009,
2/2010, 5/2011, 2/2012,
1/2013 and 2/2014

We have been placed at
Swedish Terrier Club list,
Top Terrier Breeder
9/2014

We have been placed at
Sweety Blue´s list
Top Yorkie Breeders in the World
nr 28/2006, 30/2007, 15/2008
and 20/2009

So far we have
breed and own.
120 diffrent champion titels:
15 International Champions,
32 Swedish Champions,
17 Nordic Champions,
18 Norwegian Champions,
19 Finish Champions,
11 Danish Champions,
4 Estonia Champions,
2 Estonia Junior Champion,
2 Estonia Veteran Champion.
and
27 diffrent winner titels:
1 World Veteran Winner
1 Baltic Veteran Winner
1 Baltic Terrier Winner
1 Baltic Junior Winner
1 Brûssels Winner
2 Swedish Winner
3 Swedish Junior Winner
2 Swedish Veteran Winner
3 Nordic Winner
4 Nordic Junior Winner
1 Nordic Intermediate Winner
2 Nordic Veteran Winner
1 Finish Winner
2 Norwegian Winner
2 Tallinn Winter Cup Veteran Winner

My dogs are breed out of lines
from
Debonaire´s,
Ozmilion,
De Majodian,
Du Gue De L´Adour,
Of Millmoor,
Durrer´s,
Pharao´s,
Nové Kasio,
Rigair
and
Chomutovská Krasa.

Some of my placement
with my breeders groups.
Best In Show 2014
4th and Reserv Best In Show
during year 2000.

Had a Best In Show Puppy
at Swedish Terrierclubs
100 years event
in Rosersberg, 7 june 2003.
Zue Doggy-Booms Ritzy N´Cool
"Robbie".

2002
I imported my first dog .
Pharao´s My Brandnew Toy
"Timmy".
Breeder: Sascha Schäfer,
kennel Pharao´s,
Germany.

2003
my second import
come home to me
Pharao´s Oh Sole Mio
"Maggie".

2004
my third import arrived
Vive La France Du Gue De L´Adour
"Napoleon".
Breeder: Yvonne Jan,
kennel Du Gue De L´Adour,
France.
He is one of our best studdogs,
who have give us some of our best top dogs,
CH Zue Doggy-Booms Hot-Headed Charm,
CH Zue Doggy-Booms Le Livre D'Histoire,
CH Zue Doggy-Booms Tiny Treasure.

2007
my fourth import arrived
Belle France Du Gue De L´Adour
"Pauline".
Breeder: Yvonne Jan,
kennel Du Gue De L´Adour,
France.

2014
our fifth import arrived
Uno Special Nové Kasio
"Uno"
Breeder: Vera Kosarová,
kennel Nové Kasio,
Czech.

2015
our sixth import arrived


I spend most of
my time with my yorkies,
and give them as much
love and care they need.

I have worked in Swedish
Yorkshireterrier club, SYTS,
for 10 years,
the last six as the secretary,
also my sister Eva
to the beginning of 2007.
Nowadays
Eva is involved in the board
for Swedish Terrier club.
and I am the local representativ
for SYTS in Stockholm.

Copyright &copy Zue Doggy-Booms